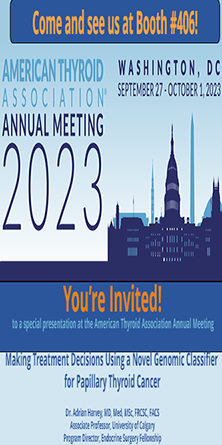 Thyroid GuidePx® is a prognostic test for papillary thyroid cancer
Thyroid GuidePx® is performed on next generation sequencing (RNASeq). The test provides a molecular subclassification of papillary thyroid cancer that is based on the expression of 82 genes.
Thyroid GuidePx® simplifies prognostication, and identifies a low risk group with <3% recurrence rate. The test outperforms the American thyroid Association Clinical Risk Stratification System.

Enter Your Contact Information Below To Receive A Sample Patient Report
"*" indicates required fields